The Ballerine: What You Need to Know About the New Copper IUD
Sophia McCarthy
An IUD is an intrauterine device used for the purposes of birth control. You have likely heard of—or even used—IUDs such a Mirena Coil  (a t-shaped device which releases progestogen) or another non-hormonal IUD that releases copper to prevent pregnancy.
The Ballerine, a new, non-hormonal IUD has been developed by Ocon Medical. Our staff have been briefed on how to scan for this IUD using ultrasound as it will begin to be used in Ireland. The Ballerine is unique in the market due to its unique, spherical shape. It is smaller than most IUDs at 15mm and when inserted, assumes its spherical shape. The Ballerine official website explains this in more detail:
The uterus friendly & flexible IUB™ Ballerine® consists of the special shape memory alloy nitinol, coated with polymer and several copper pearls. Due to this special form and material, the IUB™ Ballerine® ideally conforms to the shape of the uterus and minimises risk of damage and irritation. Attached to one end of the frame are two removal strings that allow the health care provider to pull out the IUB™ Ballerine®. – https://iub-ballerine.com/
Here is a picture of the device so you can get an idea of it's shape and size!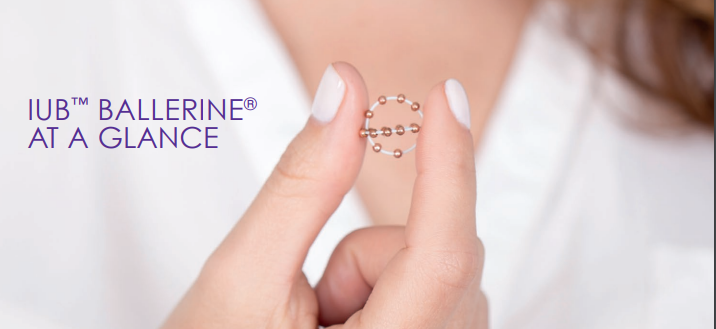 Here is a diagram showing how the device sits within the uterus: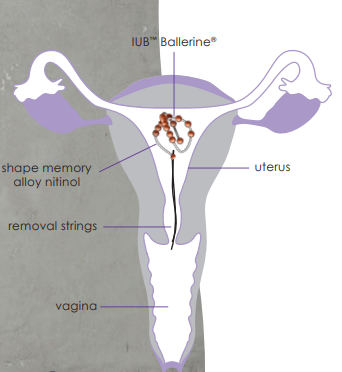 As stated on their website, like with standard copper intrauterine devices, the IUB™ Ballerine®:
• is a hormone-free contraceptive
• prevents pregnancy by acting locally – within
the uterus
• is effective for up to 5 years
• is not known to affect libido or bone metabolism
• has no influence on ovulation
• is not known to cause weight gain
• offers high efficacy
The IUB™ Ballerine® is also suitable for young women, who have not been pregnant yet. Fertility is restored immediately upon removal.
The device works by releasing small amounts of copper to provide continuous birth control for up to 5 years, similar to standard copper intrauterine devices.
Like other IUDs, the Ballerine will need to be prescribed by your healthcare provider. We unfortunately cannot prescribe or insert IUDs in our clinics. We can provide a Pelvic Ultrasound which can check the IUDs location.
For detailed information and FAQs about Ballerine, you can view their patient leaflet HERE or visit their website HERE
Our Pelvic Scan requires a referral letter from a GP registered with the Irish Medical Council and can be sent to info@theultrasoundsuite.ie or via Healthlink.