Endometriosis: Frequently Asked Questions
Post by Rebecca Falnes
WHAT IS ENDOMETRIOSIS?
The endometrium is the medical name for the lining of the uterus. This is what is shed during a woman's period. Every month the lining gradually gets thicker and thicker until the period starts, then it sheds and becomes thin to start the cycle over again. 
Endometriosis is when that lining, or tissue similar to it, grows outside of the uterus. The most common location is in the pelvic area. Although rare, it can travel to the upper abdomen as well. It can stick to the ovaries, fallopian tubes, bowel, or any other organs nearby. These abnormal attachments are called adhesions.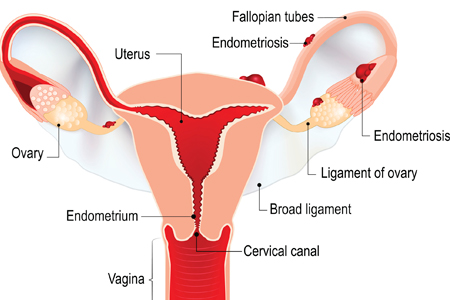 WHO CAN GET ENDOMETRIOSIS?
Endometriosis can affect any woman who gets a period. Young girls who haven't started their period yet won't be affected, and women who have gone through menopause typically feel relief from their symptoms because the hormones that make the endometrium grow have stopped. Worldwide, it affects approximately 10% of women during their reproductive years. 
WHAT CAUSES ENDOMETRIOSIS?
There is no known cause for endometriosis. It affects women of all ethnic backgrounds and social statuses worldwide. Because we don't know the cause, there is also no way to prevent it. The most important thing is awareness and recognition of symptoms for early diagnosis. Earlier treatment can help stop endometriosis from progressing and becoming severe. 
WHAT ARE THE SYMPTOMS OF ENDOMETRIOSIS?
The most common symptom is pain during your period. Pain is usually in the pelvic area and/or lower back, but can sometimes be higher up. This is because the lining inside of the uterus is leaving the body like it's supposed to, but the lining that is outside the uterus has nowhere to go and so it causes that pain. It can often be debilitating.

Women may also experience pain while having sex or when using the toilet. This is from adhesions pulling on the pelvic organs, like the bladder and bowel. 

Some women with endometriosis may also have heavy periods or bleeding in between periods. This is when the endometrium inside the uterus grows abnormally thick, so there is an excessive amount that needs to come out.
DOES ENDOMETRIOSIS AFFECT FERTILITY?
Yes, endometriosis is one of the leading causes of infertility. Oftentimes, endometriosis can block the fallopian tubes, preventing an egg from getting fertilised or from entering the uterus. 
There may also be adhesions that form within the endometrium, like bands or webs. These adhesions don't let the fertilised egg attach to the endometrium like it's supposed to for a pregnancy to start.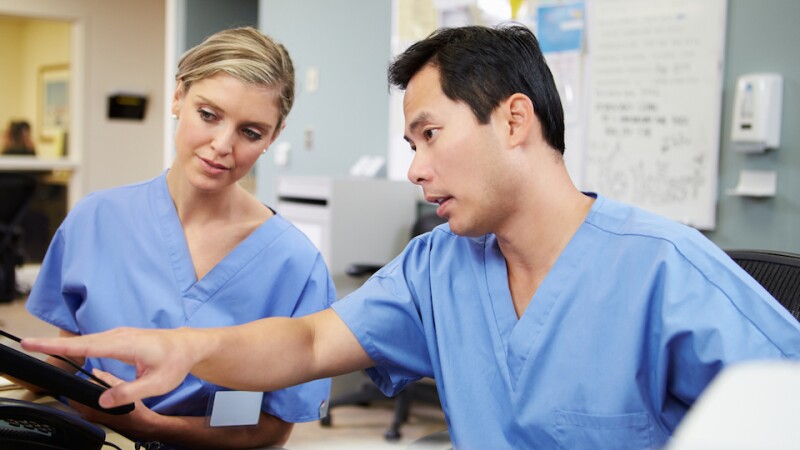 CAN YOU SEE ENDOMETRIOSIS ON ULTRASOUND?
No, endometriosis is not visible on ultrasound. Unfortunately, it is difficult to see on any type of imaging. If your doctor suspects you might have endometriosis, they may order an ultrasound to rule out any other possible causes of your symptoms first. Things like cysts in the ovaries can sometimes cause pain if they are extremely large, rupture, or become haemorrhagic (like getting a cut that bleeds.) Fibroids in the uterus can cause heavy periods or bleeding in between periods. Both cysts and fibroids are easily seen on ultrasound. If your ultrasound appears normal, then your doctor may consider endometriosis as a possible cause for your symptoms. 
MRI is the main type of scan that can see endometriosis, but laparoscopic surgery is the only definitive way to diagnose it and determine the severity. As surgery is invasive, this is typically the last approach. 
WHAT IS THE TREATMENT FOR ENDOMETRIOSIS?
There is no known cure for endometriosis. Treatment is focused on management and controlling symptoms. For mild cases or women who are diagnosed early, painkillers or hormonal medication (such as birth control) can be used to ease period pain and abnormal bleeding. 
Laparoscopic surgery is the only way to remove the adhesions. For people with severe endometriosis, multiple surgeries are usually required and even then it's extremely difficult to remove everything.  
References:
https://www2.hse.ie/conditions/endometriosis/
https://www.mayoclinic.org/diseases-conditions/endometriosis/symptoms-causes/syc-20354656 
https://www.who.int/news-room/fact-sheets/detail/endometriosis